I decided a while ago that I wanted to make regular posts highlighting cool and interesting shops online, so I thought it was about time I did so. There are so many amazing, talented artists and crafters out there, I love discovering them, and so I want to share that excitement with you. I thought I'd begin with a small business I
mentioned in a video
recently,
Umay Designs
.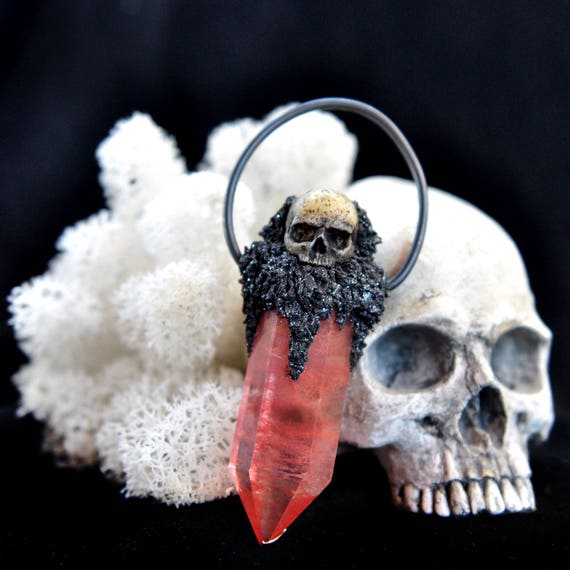 I've been following
Umay on Instagram
for a long time, and was finally lucky enough to own a piece for myself. Based in Turkey,
Umay Designs
brings you unique, handmade, "wearable forms of nature and art". They also make decorative items for display, but my personal favourite pieces are the large, outstanding crystal pendants, that do look like something plucked from nature.
Some pieces are like a little slice of enchanted forest, with tiny mushrooms, flowers, or encased spores, while others feature skulls or blood and are more macabre. Those are, naturally, my favourites. Each piece is tremendously detailed, and most certainly made with love and care, and to last.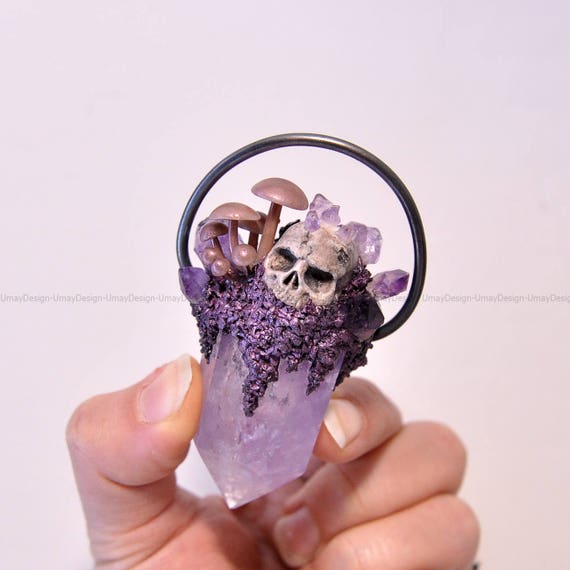 The piece I have is now one of my most prized jewellery pieces. It's so different from anything else I have, a proper treasure. I wish I could own a whole collection of their fascinating pendants. The pricing is fair given the amount of work that goes into each unique piece, and I expect you'd be very unlikely to run into someone who is wearing the same thing. I recommend following Umay Designs on Instagram, so you can keep up with all the cool new things they keep creating. I'm so impressed by their stuff, I thought you might be too :) Their stuff is perfect for anyone who wants to weave a witchy or magical vibe into their style, for crystal collectors, or they would make an amazing and special gift for someone. Visit their
store on Etsy
.
Thanks very much for reading, you can
share this article on Facebook
or
Twitter
. I hope I've introduced you to something new to fawn over, and from now on I'll be bringing you regular, awesome finds from all over the web. Cheery-bye!